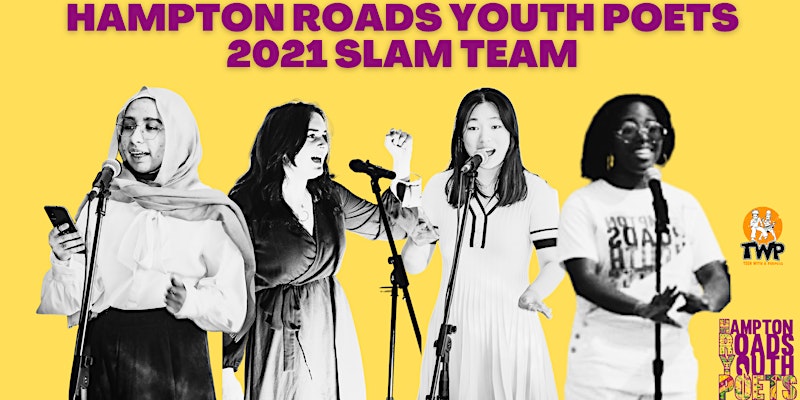 Hampton Roads Youth Poets is Teens With a Purpose Spoken Word Division
The Hampton Roads Youth Poets is a division of the youth empowerment organization Teens with a Purpose. HRYP develops young writers and young minds through intense trainings and workshops. These writers, spoken word educators, and youth activists learn to use their voices, energy and ideas to be a forge and a change in their community while developing tools for personal growth.
To help keep us all safe and healthy, 2022 Poetry & Performance Season has moved to our virtual space. Limited in-person events will also be offered.

Our nation is experiencing young people in a whole new way. Youth are activating their power to effect change, passionately and poetically. They are picking up their pens and stepping up to microphones with spoken word poetry as their device. Teens With a Purpose has been at the forefront of this literary arts movement for youth for over a decade. This year we celebrate the thirteenth year of Teens With a Purpose Performance Season: the Hampton Roads Youth Poetry Season & Festival, also known as Hear This Slam Fest. Slam Fest has become a much anticipated experience, a festival that blends competitive performance poetry written tradition with lyricism, positive music and stage acumen in a way that profoundly affects and entertains youth and audiences of all kinds. Here young poets fearlessly tell their stories, in their own words to be shared with their generation and the community at-large. They meet students from different cities and with different background who come together to share their mutual love for the art form – spoken word POETRY. The 2021 theme is "ImmortAll: Let Your Words Live Forever!"
Teens With a Purpose 2022 Poetry & Performance Season is a poetic homage to Hampton Roads Black History with workshops & performance events for a season-long celebration built around storytelling through performance & poetry.
ImmortALL "Let Your Words Live Forever!"
EVENTS WILL BE LIVE STREAMED ON YOUTUBE.COM/TEENSWITHAPURPOSE AND FACEBOOK.COM/TWPTHEMOVEMENT
Other Literary Arts Programs
YOUTH POET LAUREATE The Hampton Roads Youth Poet Laureate Program identifies youth writers and leaders who are committed to civic/community engagement, poetry & performance, leadership and education across Hampton Roads. Youth will be published in a national youth Poet Laureate anthology and regional Youth Poetry Anthology. Coming Spring 2022!
HEAR THIS! CLUBS Join us at one of our school based poetry clubs that fuses Spoken Word Poetry with visual art and music transforming the class room into a poetry studio. Here youth learn how to represent themselves, their experiences, and their ideas, powerfully. Students apply these tools to magnify the strength of their writing and their speaking. Clubs are currently held at Bayside 6th Grade Annex in Virginia Beach, Lakewood Academy for Discovery in Norfolk, Huntington Middle School in Newport News, I.C. Norcom High School and Booker T. Washington High School. Let us know if you are interested in starting a poetry club at your school or organization. Currently held virtually
Hampton Roads Youth Poets Weekly Development Workshops
Virtually and In-Person
At the end of the festival, six finalists qualify to represent all of Hampton Roads at Brave New Voices and other national and regional events. The Brave New Voices International Youth Poetry Slam Festival, powered by Youth Speaks, it is the only festival of its kind. Every year, over 500 young poets, their mentors, and the nation's leading artists and cultural workers convene in a different U.S. city for 4-5 days of arts education, artistic expression, and civic engagement.